BSF Recruitment 2021: Border Security Force has published Employment News for 269 ConstaB.E (General Duty) posts. All the candidates are requested to read all the necessary employment-related information before applying for Border Security Force. Apply only after
On the 07th of August, 2021, it was updated. Find all 269 BSF Recruitment 2021 opportunities in India on the BSF Recruitment 2021 website, as well as all the most recent job openings. Updated on August 07, 2021, to include the most recent BSF Recruitment openings for both freshers and experienced candidates. Stay tuned to this page for updates on the upcoming BSF Recruitment 2021, including the number of positions available, compensation information, and more.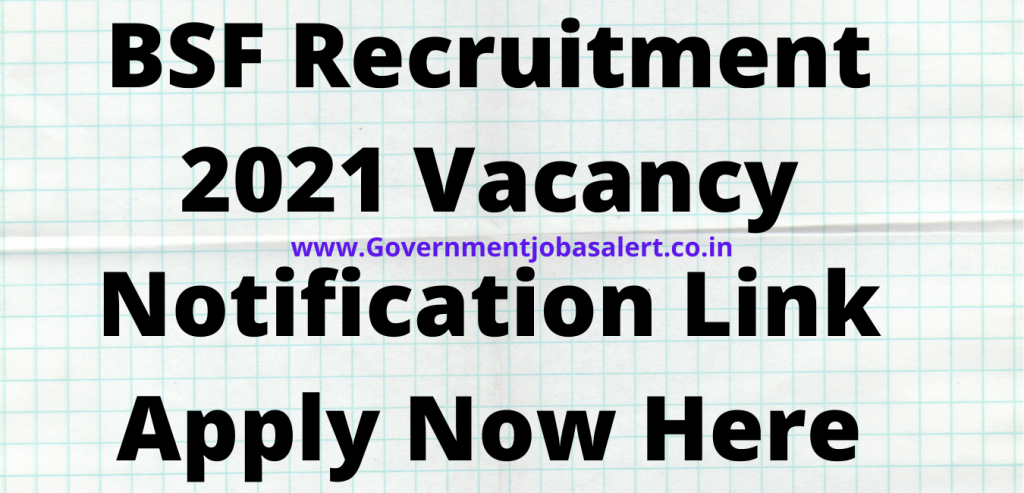 Notice of 269 Constable (General Duty) Posts Recruitment In BSF Recruitment 2021
Educational Qualification

For more information related to the 10th pass, educational qualification, definitely see the published notification of this job (BSF Job Notification).
| | |
| --- | --- |
| Name of Posts | No. of Posts |
| Constable (General Duty) | 269 Posts |
Age Limit & Relaxation

The age limit should be between 18 – 23 years, please see the published notification for age relaxation and other information.



Selection in BSF

In this Sarkari Job, the candidate will be selected according to the written examination, physical standard test (PST), documentation, medical examination, for complete information about the selection process, please check the official notification below.
Dates For BSF Bharti
| | |
| --- | --- |
| Job Publish Date | 09-08-2021 |
| Last Date to Apply | 22-09-2021 |
How much salary will you get (Salary in BSF)

Payscale will be 21,700 – 69,100/-, please check the notification for more information related to salary



How to Apply

Interested candidates can apply online, please check the official notification before applying.



Application Fees

For more information related to the application fee, please check the official notification.
Note – For more information related to BSF Recruitment, you can see the published notification, please share this information with your friends and help them and visit Defense Jobs In India daily for information about other government recruitments (Sarkari Exam & Results). Do it.
Important Links of BSF Bharti 2021
Border Security Force (BSF) Recruitment 2021
India's Border Security Force (BSF) is a border patrol force. It is a paramilitary organization tasked with patrolling India's land border during peacetime and preventing transnational crime. It was founded on December 1, 1965. It is a Union Government Agency under the Ministry of Home Affairs' administrative jurisdiction. It is one of India's several law enforcement agencies. It is currently the world's largest border patrol force.
Governmentjobsalert will notify you about BSF Recruitment 2021 free job alerts.
This page contains information about the various fascinating job opportunities available on BSF 2021. This website is constantly updated with the most recent and upcoming BSF Recruitment 2021 Notifications. So keep coming back to our page to learn about the latest and upcoming BSF jobs.
Governmentjobsalert Resources will help you prepare for BSF Recruitment 2021.
Governmentjobsalert will assist you in getting enrolled in the BSF Recruitment 2021 drive with its resources such as placement papers, aptitude skill tests, interview questions and answers, current affairs, and so on. So take advantage of it and secure your ideal Company Job. Governmentjobsalert updates Rojgar Samachar on BSF's latest on a daily basis. Don't miss out on this fantastic chance.
How can I get a free job alert for BSF Recruitment 2021 in the near future?
You can subscribe to our Governmentjobsalert Free Job Alert to receive timely notifications about BSF Jobs 2021 and vacancies that will be announced in the near future. You will undoubtedly receive immediate alerts regarding the impending BSF Recruitment 2021. What you do today will determine your future. Governmentjobsalert will help you expand your horizons by providing you with a world of opportunities. Best of luck in your future pursuits.
BSF Recruitment August 2021
Happy News for Job Seekers! Are you looking for a reputable company to work for and a high-paying job? Governmentjobsalert is a pool of resources where you may get golden job chances in Top Companies across India based on your preferences. Be the first to investigate it.
bsf.nic.in 2021, Jobs in India, online application, employment jobs alert, bsf.nic.in 2021 opportunities across India, exam result, vacancies 2021, bsf.nic.in the notification, etc. can all be found here.
Apply for the BSF Recruitment 2021 (Latest Border Security Force): Here you will find all of the most recent Border Security Force BSF job openings. Before applying for the job, please read the offered information carefully, including educational qualifications, application costs, and selection procedures. Governmentjobsalert.co.in allows you to subscribe to BSF Jobs and receive information about Constable vacancies across India.
What exactly is included in the BSF Recruitment 2021 information?
This is the best spot to get all the information you need to apply for recent BSF positions. Job description, Total vacancy, Eligibility criteria, Salary, Educational qualification, Job Locations, Application method, Application fees, Selection procedure, Last Date for application, Interview Dates of BSF Recruitment 2021 are all available on Governmentjobsalert.
This page contains links to the BSF Recruitment 2021 official notification and online application form, allowing you to apply for BSF jobs in the most efficient manner possible. Furthermore, you may find many similar jobs in top companies right here on one page.
Why should you use Governmentjobsalert to get free job alerts for Border Security Force BSF Recruitment 2021?
Governmentjobsalert is a one-stop-shop for all Border Security Force BSF recruitment 2021 notifications from bsf.nic.in across India's numerous sectors and businesses. Governmentjobsalert makes sure that all of our visitors are informed about all of the available jobs. We make certain that none of the job openings are overlooked on our website. We assist both new and experienced graduates in receiving news about recent BSF Recruitment 2021 opportunities throughout India.
Governmentjobsalert is a popular job portal that posts all government job openings. This is a special page for the most recent Border Security Force BSF Recruitment 2021 notice. On this unique page for Border Security Force BSF, the Governmentjobsalert staff guarantees that all notifications and job vacancies from Border Security Force BSF are presented. This page lists all the Border Security Force BSF 2021's active and recently expired job openings and notifications.
What else is there to know about BSF Recruitment 2021 at Governmentjobsalert?
Governmentjobsalert allows you to search and apply for lakhs of best-paying jobs in top companies based on your degree and location, which are updated every minute. Similar Jobs for various streams such as 10th, 12th, B.E, B.Tech, M.E, M.Tech, B.Sc, M.Sc, B.Fsc, M.Phil, Ph.D., BCA, B.B.A, MBBS, MS/MD, MCA, B.Com, etc. may be found here.
Top Jobs are also available in cities across India, including New Delhi, Mumbai, Kolkata, Pune, Noida, Chennai, Bengaluru, Hyderabad, and others. Governmentjobsalert is the first place to find out about the latest Sarkari Naukri job openings. At Governmentjobsalert, you can get today's Sarkari Result, as well as Weekly Employment News, updates that you won't find anywhere else.
BSF Recruitment 2021 – Frequently Asked Questions
Q1. What is the full form of BSF?
BSF stands for Border Security Force in its full form. Candidates can learn more about a company's full form by visiting the company's official website.
Q2. What are the job opportunities in BSF?
BSF has a vacancy for a Constable in the year 2021. On the current dates, BSF will display all active jobs. The jobs will be offered for a variety of positions and exams that the BSF will conduct. Candidates can therefore go to the BSF and apply for the position if they are qualified.
Q3. What is the BSF Constable Salary?
The BSF will set the remuneration for Constables before the exam. The salary for the Constable will be detailed in the official notification, along with other parameters such as age restriction, eligibility criteria, and so on. The compensation range for Constables is 21,700 to 69,100 dollars, according to the notification (Per Month).
Q4. What are the BSF Eligibility Criteria?
Nationality: Candidates must be Indian citizens only, and further information may be found on our website Governmentjobsalert. Candidates should have a 10th-grade diploma from a reputable university or institution. Candidates applying for BSF must be between the ages of 18 and 23 as of August 1, 2021. ( Relaxation as per the prevalent Recruitment Rules).
Q5. When is the deadline for Constable applications?
Before the deadline, eligible candidates can apply for Constable. The deadline to apply for BSF Constable is September 22, 2021. Candidates should not wait until the last day to apply because the portal will be extremely busy. The link to the BSF Constable Application Form can be found on the BSF official website.
Q6. How do I apply for a position as a BSF Constable in 2021?
Candidates can apply for BSF Constable 2021 by visiting the BSF official website or using the official link provided on this page. In a PDF provided by the BSF, the step-by-step method for applying for the BSF Constable 2021 will be detailed. Before applying for BSF Constable 2021, candidates should carefully read the instructions.
Q7. What is the minimum age to be a Constable?
Candidates applying for Constable must be between the ages of 18 and 23 as of August 1, 2021. ( Relaxation as per the prevalent Recruitment Rules). If any candidate applying for Constable does not meet the above-mentioned age restriction, their application will be rejected. As a result, before applying, candidates should carefully check the age limit specified in the Notification PDF.
Q8. What are the requirements for BSF?
BSF requires candidates to have passed 10th grade and does not accept candidates who do not meet the minimum requirements. It would be preferred if you had the further certification.
Q9. How can I become a member of the BSF?
Candidates should first review the BSF's official announcement. Candidates should read the official notice PDF for eligibility requirements. Candidates should only apply if they meet all of the requirements. Following the submission of an application, the BSF will shortlist eligible individuals and notify them of their eligibility to take the exam. Finally, candidates can join the BSF only if they pass all of the Company's selection processes.
Q10. How many positions are available in the BSF?
There are a total of 597 vacancies in the BSF. To fill the openings, the BSF will conduct exams and interviews.
Q11. What are the BSF Constable's fees?
The following is the fee schedule for a BSF Constable. The BSF Constable Fee Structure Candidates have the option of paying online or offline. Debit/Credit Card/Net Banking can be used to make an online payment. Offline payments can be made by going to the bank that the BSF recommends throughout the application procedure.
Q12. What is the procedure for selecting a BSF Constable?
Prelims Exam, Mains Exam, and Interview are the steps in the selection process for BSF Constable. Candidates who pass the preliminary exam will be entitled to take the mains exam. Candidates who pass the mains exam will be entitled to participate in the last stage, the interview. Candidates who pass all of the selection processes will be appointed as BSF Constables.